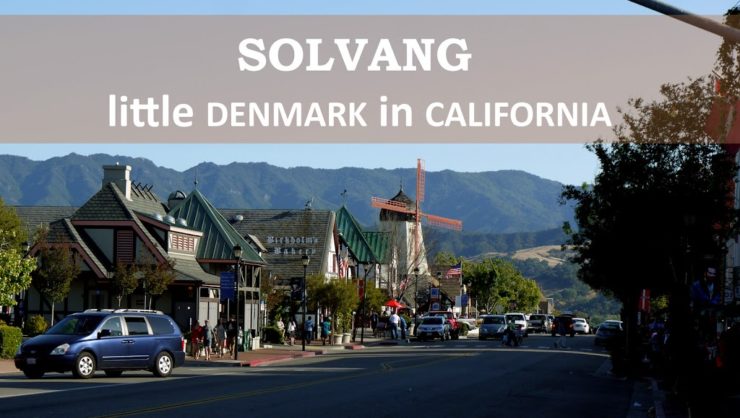 When we said goodbye to our Australian friends in Angeles National Forest we left to visit Solvang. Doesn't this name sound danish? Indeed, it is a danish town in the middle of California near Santa Barbara!.
Solvang in danish means "Sunny field" and it couldn't be a better name for the place knowing the rainy weather in Denmark. Between 1850 and 1930 a large amount of Danes moved to USA due to poor economic. Danes didn't like harsh Midwestern winters so they traveled west till they found beautiful "Sunny field". And by 1911 Solvang was founded and named by a group of Danish educators. Prior to Danish settlement, the are was governed by Spanish rules.
Today Solvang is a tourist trap. But since I and Mr.J lived in Denmark for a while we were super curious how much of "Denmark" we will find there. We arrived in the town around 5PM just right at that time when all the little shops were closing. I was pleasantly surprised that most of the buildings in the city center reminded danish architecture. There were quite a large amount of danish bakeries but for some reason only few restaurants that serve Danish food. When we finally decided where we would like to go for dinner we ordered meatballs and sausage with mash potatoes and of course everything came with
THE BROWN SAUCE
(it was delicious). After dinner, we visited couple bakeries that were still open. I was desperately looking for rugbrød (dark bread) and kanelsnegle (cinnamon roll) unfortunately I found only kanelsnegle. But the best part of the town was to see a little mermaid and Rundet
å
rn (round tower). They are both copies and smaller than originals. A little mermaid sits sadly in a little fountain nearby busy crossroad and the Round tower is just a Pizza place (very danish).
Since I am writing about so much beloved and nostalgic Denmark I would like to congratulate my dear friends Lina and Troels who live in Copenhagen and just got married ( sorry we couldn't make it!) .
***
Kai atsisveikinome su draugais Australais Angeles Nacionaliniame miške patraukėme Solvang link. Argi šis pavadinimas neskamba labai jau skandinaviškai? Ir kaip nebūtų keista tai yra nedukas Daniškas miestelis netoli Santa Barbaros ( pamenat ta serialą Santa Barbara iš kokių 19995 metų? ).
Solvang išvertus į lietuvių kalbą reiškia Saulėtas slėnis ir tikriausiai negalėtų būti geresnio pavadinimo šiai vietai žinant, kad lietingą Danijos klimatą. Tarp 1850 ir 1930 metų nemaža  Danų populiacija dėl prastos ekonomikos emigravo į Ameriką. Dėl žvarbių vakarietiškų žiemų Danai keliavo vakarų pakrantės link kol surado Saulėtąjį slėnį. 1911 metais burys Danų edukacinės veiklos atstovų įsikūrė šioje vietoje ir pavadino miestą  – Solvang. Prieš įsikūriant Danams ši vietovė buvo valdoma pagal Ispanų taisykles.
Šiomis dienomis šis miestelis yra turistų traukos centras ir kadangi mes abu su Misteriu.J gyvenome kurį laiką Danijoje mums buv be galo smalsu nuvažiuoti ir pamatyti kiek iš tikro šis mietas primena Daniją. Atvykome į Solvang nei anksti nei vėlai apie 5 valandą vakaro kai visos mažos parduotuvėlės jau užsidarinėjo. Buvau maloniai nustebinta, nes miesto centre esantys pastati iš ties priminė Danišką arhitektūrą. Mietse buvo gausu Danškų kepyklėlių, bet pasigedau kavinių kurios siūlytų tradicinių Daniškų patiekalų. Kai galų gale nusprendėme kur pavakarieiauti, užsisakėme kotletų su dešrelėmis bulvių koše ir visa tai žinoma buvo aplieta RUDU PADAŽU (buvo skanu). Po vakarienės užsukome į kelias kepyklėles, kurios dar buvo atidarytos ir aš beviltiškai ieškojau nusipirkti rugbrød ( juodos duonos) ir  kanelsnegle ( cinamoninė bandelė), deja radau tik bandelę. ( Taip ir nesupratau ar jie iš vis tai pardavinėjo ar tik duona buvo išparduota). Bet manyčiau smagiausia dalis buvo pamatyti sumažintą mažąją undinėlę ir Rundetårn (apvalųjį bokštą). Vargšė undinėlė sedėjo sau kažkokiam mini fontane šalia judrios sankryžos,o apvaliajame bokšte labai daniškai buvo įsikūrusi picerija.
Ir kadangi šis mano įrašas yra kažkiek susijęs su taip pasiilgta ir numylėta Danija norėčiau pasveikinti savo draugus Lina ir Troels, kurie gyvena Kopengagoje su Vestuvėmis! ( atsiprašom, kad negalėjome sudalyvauti).