Thanksgiving is coming that means it is time to plan another backpacking/adventure trip. Every year me and Mr.J instead of stuffing our bellies with food we go and explore new places. I started looking around what we will do this year ( it is always kind of last minute planning) but I remembered that I never shared what we did last year. So last Thanksgiving I celebrated by thru backpacking Trans- Catalina Trail. Trans-Catalina trail is located in the Catalina island around 22 miles ( 35 km) south of Los Angeles. The only way to reach the island is by a helicopter or plane ( if you are rich), by a ferry or with your own boat! The island is 22 miles (35 km) length and 8 (13 km) miles across at the greatest width. I took some backpacking diary/notes during this backpacking adventure and I will share them here. It was one of the most adventurous backpacking trips we went on.
I enjoyed that we did not need to pack too much food, there are restaurants on the way.

The campsites were tidy and some of them had toilets and running water.

Catalina Island is full of wonderful plants and animals.

The terrain was not as horrible as I expected and overall it wasn't as hard.

If there is any chance of rain, most likely it will rain so be prepared for that.

Be prepared to meet with buffalos and give them some distance if they are on your way.
Day 1. Nov 25th – Wednesday. Ferry to Catalina island – Avalon
Wild ocean = intense ferry ride. The whole first floor of boy scouts puked all over. I was just praying for the ferry to reach the Catalina Island safely. The ferry that was supposed to go after ours was canceled so I guess it was really wild ocean that morning. We took a ferry to Avalon, the first thing you will notice – golf carts are used as transportation everywhere! ( small space doesn't require cars). The island has tons of woodpeckers, they make little round holes in trees, palmtrees and even fences and fill them with acorns. Overall Avalon is a cute tourist town with hotels, bars and shops. We had early dinner in the town and went back to the to the campsite to sleep at 6.00 pm.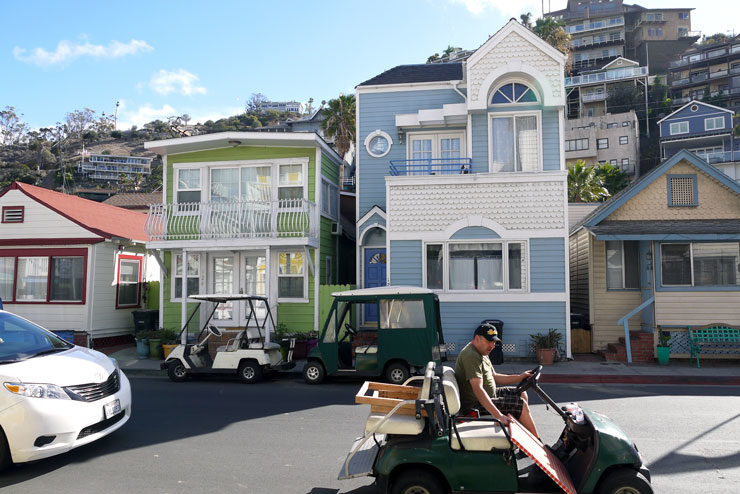 Day 2. Nov 26th – Thursday. Starting hiking Trans-Catalina Trail. Avalon – Airport in the sky – Little Harbor 14,5 miles ( 23,3 km)
"That Buffalo scared me. I thought we were goners " – Mr. J.
Did I mention that Catalina island is full of wild buffalos that can totally destroy your hike by blocking the trail? That happened to us  twice! Buffalos are not native to the island, they were brought for a movie in the 30's and was left. These days the population is regulated to keep around 150 them on the island.
Little Harbor was the second campsite on this trip we were staying. We started hiking at 4.00am right before the sunset, but it was still completely dark. We took Hermit Gulch Trail till we reached the top of the mountain, had breakfast and watched the sunrise. Only now I  could actually see that we were surrounded by the ocean. As we hiked we encountered our first buffalo who was standing and not moving right in front of the gates where we needed to go. We tried to walk around it and looks like it worked. Later that day we saw in the far distance a group of 40 buffalos enjoying their day in the sun. Right in the middle of Avalon and Little Harbor there is an Airport in the sky technically tiny airport and a restaurant that is famous for its buffalo burgers, delicious chocolate chip cookies, and tasty lemonade.  The Second half of the trail had scenic views of the ocean and cliffs. We reached the Little Harbor Campsite early in the evening, it was a beautiful campsite right near the beach with drinking water and portable toilets. We spend the evening at the beach looking at the sunset and relaxing.
Day 3. Nov 27th – Friday. Little Harbour – Two Harbors – Parsons' Landing 13,2 miles ( 21,2 km)
Woke up at 11.30pm from the rain hitting the tent. I thought it will be a short one but it was raining all night till 4.00 am and I spent half of the night panicking that we will get soaking wet. Got up at 5.00 am to find out that the only spot in the campsite that was not flooded was where we placed the tent. Neighbors were not as lucky as we were. We started hiking again the trail from the campsite went to the top of the mountain, it was quite muddy and slippery, but the views were stunning! When we reached Two Harbors, we were super muddy. Two Harbors is another little harbor town with one bar and a consignment type store. If you ever get to Two Harbors go to the bar and order Buffalo milk, you won't regret. We had lunch and started hiking to Parsons' Landing campsite. This campsite is located at the beach and has only 5 campsites. These campsites need to be reserved in advance. We reached the campsite around 3:15pm. We were already quite tired but we thought it would be cool to quickly place a tent, leave all of our stuff at the campsite and try to reach Starlight Beach ( the end of the Trans Catalina Trail) , but it was another 4.3 miles one way. So we decided just to walk as much as we could till it gets darker and turn around. So after an hour or so of hiking it got a little darker and we turned around to walk back to the campsite. As we walk down the mountain I could see the campsite. Couple buffalos were wondering around and I jokingly said while pointing at one of the buffalos: " Wouldn't be funny if that buffalo would start walking towards us?".  And just let me explain that the road that takes to go to Starlight Beach is located right in the middle of the  canyon and it's the only way to get there. And as we keep going closer to the intersection the buffalo kept walking towards us. Not too long, he crosses that tiny canyon road and we knew we were in trouble. We stopped and waited for the beast to show up since from there we were unable to locate it. It got dark we needed to turn our headlamps on and it was not funny anymore. Somehow after an hour of waiting and checking where the animal was, we saw green reflecting eyes in the dark. It was creepy (buffalos are stubborn and not friendly at all) and it didn't look that it was planning to go anywhere else when after sometime he moved away and we could safely come back to the campsite. We spent the evening by the fire laughing from what just happened and went to sleep with ocean waves just steps away.
Day 4. Nov 28th – Saturday. Parsons' Landing – Little Harbor 12,5 miles ( 20,1 km)
We didn't set the alarm clock that morning but still woke up before the sunrise. We stayed in the tent for a while and enjoyed the view of waking Los Angeles. We ate breakfast and hiked back to Two Harbors via a different trail. In Two Harbors we were waiting for couple hours for a ferry as we waited I was enjoying Buffalo Milk cocktail. The ferry ride back to LA was way smoother than I expected the ocean was flat.
If you are interested in my previous years Thanksgiving trips read how we went backpacking in Zion National Park in Utah or the road trip to Grand Canyon and Las Vegas